The dance of the future will be a highly spiritual art as in the time of the Ancient Greeks. Because an art which is not spiritual is not an art, it is any commodity.
Isadora Duncan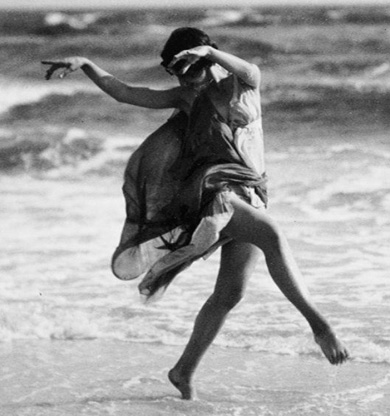 A pioneer of modern dance
at the beginning of the last century, Isadora Duncan released dance from the codes of classical ballet. But beyond the form, her message had a spiritual and universal meaning.
She preached the free spirit by the free movement of the body and for this she extolled a return to natural movements . Ancient Greek dance inspired her for its philosophical and sacred dimension, which has been lost in the West for a long time. She aspired to make dance a new art of living, in harmony with the laws of the universe.
Following her dance philosophy, Fabienne Courmont, after moving away from the codes of classical and contemporary dance, in 1984 began a world dance tour in search of a universal language that unites body,soul and spirit. This world tour started in San Francisco, hometown of Isadora Duncan, where she gave some performances of free dance getting in connection with the spirit of Isadora.
Isadora and her brother Raymond traveled to Greece ,in Athens where they built a temple dedicated to dance, as it was in the time of ancient Greece where dance, sculpture, poetry, philosophy were merged into one all harmonious. This place still exists and welcomes Fabienne Courmont for her creations and the Isness Dance – Danse de l Etre® trainings through an initiatory journey "following Isadora Duncan and the Ancient Greek philosophy"

In 2011, Fabienne Courmont metJean-Pierre Merle, grandson of Raymond Duncan . From this extraordinary meeting a great friendship was born and since then he has transmited her the philosophy and the basics of natural gymnastics by his grandfather, Raymond Duncan.
In 2012 another decisive meeting with Alkis Raftis, CID President (International Dance Council). An Isadora Duncan specialist researcher, he recognized her as the continuation of Isadora Duncan and propelled her internationally. Since then she has participated in world dance research congresses ( Athens, St Petersbourg…) and Isadora Duncan symposiums in the United States where at conferences, workshops and performances she transmits in a current form her approach to the free dance of Isadora Duncan through Isness dance.
A century after Isadora Duncan, Fabienne Courmont embodies the sacred dance spirit in a free and universal form that Isadora Duncan called : The dance of the future.
Discover Fabienne Courmont's book: La Danse de l'Être, dans la lumière d'Isidora Duncan.
Découvrir le livre
Voir la vidéo : Following Isadora Duncan and Ancient greece.