After all, two is the primordial unit, together we embody one body that doesn't belong to anyone. It is the body of Earth.
Min Tanaka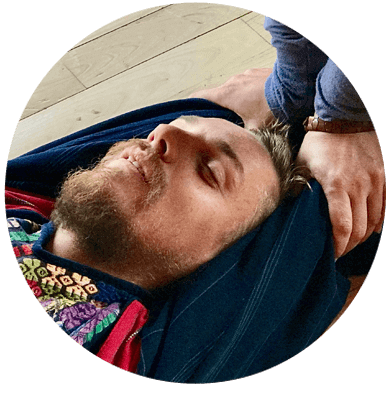 Tanaka Massage is a set of sequences which are practiced as a slow and rhythmic dance meditation. It combines conscious breathing with manual pressures, yoga stretches and passive mobilizations
This method was created in Japan within the «Body Weather Laboratory» for Butô dancers by Tanaka Min. Trained in Japan in 1984 by Tanaka Min, Fabienne Courmont , started the Tanaka Massage in France conceptualizing it in a way to make it accessible to everyone. She has taught it since 1994 after the agreement of Tanaka Min.
The Tanaka massage's benefits
Tanaka Massage releases the tensions accumulated in the muscles and brings awareness and life energy throughout the body, stimulating the self-regeneration capacities of the cells. It invites us to a deep letting go experience in order to find new paths in our body and mind. So we can live our body not as a separate entity but in perpetual motion and interrelation with others, nature, and the universe.
Tanaka Yoga-Massage is effective especially in case of stress, nervous tension, joint and back pain and stiffness, fatigue, depression ... It is a real little treasure for physical and mental well-being and also a wonderful tool for self-knowledge which opens the way for the wisdom of the body and the heart.
Whom training is for?
Tanaka Yoga-Massage is practiced dressed on the ground. It is accessible to everyone and everywhere. The training is aimed at people wishing to acquire a tool for self-knowledge and personal growth through the body for their well-being in their lives and for their loved ones and at professionals in movement, support, therapy , education… wishing to integrate a powerful and effective body therapy tool into their professional practice.
This training can be a complement to the Dance therapy Danse de l'Être® where the basis of Tanaka Yoga-Massage is transmitted .It is possible to follow only the initiation for a personal and family practice.
Tanaka Massage initiation seminar
4 days • 30 hours
Goals
This initiation session allows you to discover the method and to learn the first basic sequence. It opens the possibility to continue the training for Tanaka Massage practitioner.
Registration form
Tanaka Massage practitioner training
2 x 5 days • 70 hours
Goals
This training will allow you to acquire the other sequences of Tanaka Massage and to support the person for their well-being . Prerequisite: having completed the Initiation seminar.
Registration form
Content
Energy awakening indoors or in nature: Do-In and Shinto
Centering in the Hara, grounding, working on the right posture
Conscious breathing and Koto Dama sounds, associated with Tanaka massage
Practice of senses awakening of the "Body Weather Laboratory" in nature
Learning of the Tanaka Massage sequences
Anatomy by movement
Sensitive and intuitive listening during practice
Approach to the beneficial effects of Tanaka Massage
Energetical approach to Tanaka Massage in connection with the chakras
Create a session according to the person needs
Speech circle and integration of the body experience
Training rates
14 days • 98h
1260€ or 140€ x 9 months
Registration form
International Certification Tanaka® Yoga Massage practitioner
Awarded by Isness Dance Academy-Danse de l'Être ® and the C I D - UNESCO Partner
Certificated training. It is awarded to people who followed all stages of the process and acquired the capacity to manage an individual session / have done a minimum of 12 supervised sessions.
During the training a complete educational file is provided, accompanied by a personal notebook.
2 days • 280 €
Registration form