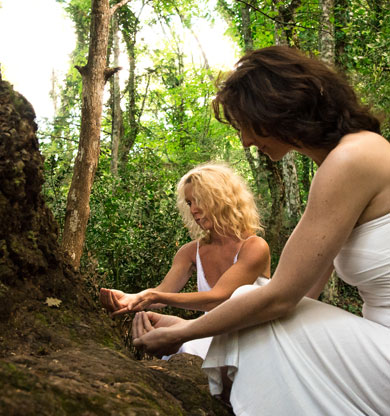 From the 12th to the 16th of August 2020, Bugarach (Aude)- France
Dance pilgrimage in a sacred land
Les pleiades Archeodance Cie
This summer 2020,the sacred feminine is still and more than ever the spotlight of Isness dance with a dance retreat in nature at Ste Baume's sacred forest, folowing the spirit of Marie-Madeleine and the project of Les Pleiades Cie.
This summer, we were to give the show "Demeter, the awakening of the Earth" in Greece, at the Samos festival and in September at the Palais des papes in Avignon. All these events being canceled due to the pandemic crisis, we decided to offer our dance to honor Mother Earth in a co-creation with the living and to celebrate the unity and beauty of creation.
Offering dance, healing dance, pilgrimage in different energetics and sacred places where the dancers of the company will establish a dialogue between them and nature based on respect and listening in order to bear witness to the sacred bond which unites human beings to Mother Earth.
It's the calling of the sacred land of Bugarach which resonated for this extraordinary summer of 2020. You can follow us on our social networks with videos, photos and live and also actively participate in this project by supporting us… we will reveal a little more to you in the next July newsletter…

It is time to find for us and for the next generations this living connection that the ancients had with the earth and dance for her. We are the Earth's guardians.
Fabienne Courmont